BH1750 is one of the most common sensors. It helps to manipulate the screen brightness based on the environment lighting in mobile phones. This cost-friendly sensor also measures light intensity with high accuracy.
USA purchase link
UK purchase link
Germany purchase link
Specifications:
Power Supply: 2.4V-3.6V (typically 3.0V)
Less current consumption: 0.12mA
Measuring Rang: 1-65535lx
Communication: I2C bus
Accuracy: +/-20%
Built-in A/D converter for converting analog illuminance in the digital data.
A very small effect of IR radiation
Highly responsive near to the human eye.
How does the BH1750 work :
We obtain the lux values from BH1750 via the I2C bus.I2C pins SDA and SCL transfer the data to the microcontroller. For instance, the SCL provides a clock pulse, and SCL transfers lux value. The IC uses a photodiode that provides an equal reaction to the human eye. An internal oscillator in the IC is used for the clock of the internal logic of the IC.
BH1750 Pin Configuration :
The BH1750 has five pins. For instance,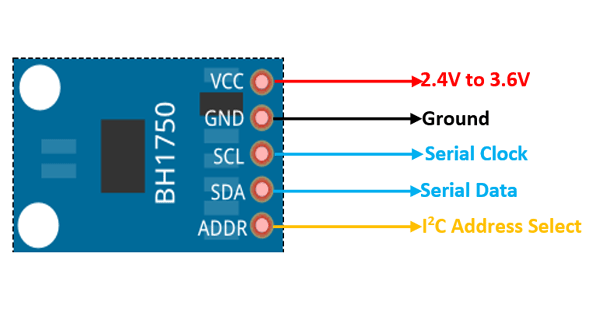 Ardunio wiring:
First, Connect the Sensor GND to Arduino GND.
Second, Connect Sensor SDA to A4.
Third, connect SCLto A5.
Lastly, Connect Sensor Vcc+ to Arduino +5v
Ardunio Code :
you need to install the BH1750FVI library.
#include <Wire.h>
#include <BH1750.h>
BH1750 lightMeter;

void setup(){
  Serial.begin(9600);
  Wire.begin();
  lightMeter.begin();
  Serial.println(F("BH1750 Test"));
}

void loop() {
  float lux = lightMeter.readLightLevel(true);
  Serial.print("Light: ");
  Serial.print(lux);
  Serial.println(" lx");
  delay(2000);
}