DHT22 is one of the popular humidity sensors to work with. The low-cost sensor is much more accurate compared to DHT11. It is a capacitive type humidity sensor.
USA purchase link
UK purchase link
Germany purchase link
Specifications:
Low cost
3 to 5V power and I/O
2.5mA max current use during conversion (while requesting data)
Good for 0-100% humidity readings with 2-5% accuracy
Good for -40 to 80°C temperature readings ±0.5°C accuracy
No more than 0.5 Hz sampling rate (once every 2 seconds)
Body size 15.1mm x 25mm x 7.7mm
4 pins with 0.1″ spacing
How does DHT22 work :
DHT 22 uses a capacitive humidity measuring element along with an inbuilt  NTC thermistor. Therefore, the humidity element gives the measure of the amount of water present in the moisture. Meanwhile, The NTC  gives the ambient temperature needed to calibrate the reading certainly to make the most accurate correction possible for the sensor.
 DHT22 Pin Configuration :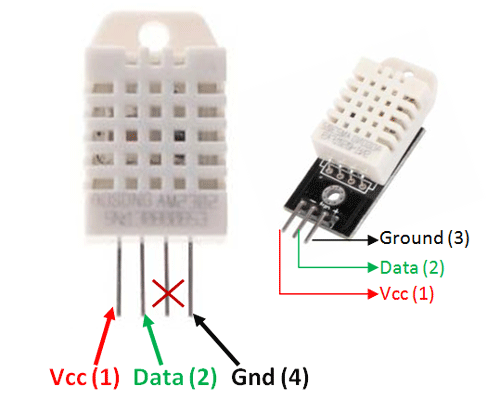 The DHT 22 sensor has 4 pins. For instance,
DHT22 Arduino Wiring:
First, Connect the Sensor GND to Arduino GND.
Second,  Connect Sensor Signal to Arduino PIN 7.
Third, Connect  Sensor Vcc+ to Arduino +5
DHT22 Arduino Code :
#include <DHT.h>;

#define DHTPIN 7     // data pin
#define DHTTYPE DHT22   
DHT dht(DHTPIN, DHTTYPE); 

int chk;
float hum;  // humidity value
float temp; // temperature value

void setup()
{
  Serial.begin(9600);
  dht.begin();
}

void loop()
{
    delay(2000);
    //Read data and store it to variables hum and temp
    hum = dht.readHumidity();
    temp= dht.readTemperature();
    //Print temp and humidity values to serial monitor
    Serial.print("Humidity: ");
    Serial.print(hum);
    Serial.print(" %, Tempreture: ");
    Serial.print(temp);
    Serial.println(" Celsius");
    delay(10000); //  Delay 2 sec.
}